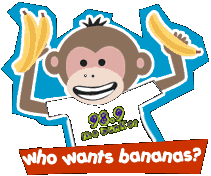 NO MORE BUSY SIGNALS.
NO MORE "LUCKY" CALLERS.
NO MORE WAITING IN LINE.
The moment you register for free to be a Hot Monkey, a world of privilege, opportunity and adventure opens up. A new & easy way for you to win with 98.9 the bunKer. The more you listen, the more we'll hook you up with exclusive, elaborate and exciting rewards.
Simply listen to 98.9 the bunKer & earn BANANAS. Best of all, you choose how you want to spend your bananas from three different ways: On-Air Jackpots, Auctions, or Online Shopping (use your bananas like cash).
If you're not a Hot Monkey yet, join for FREE by filling out the form below.